REVIEW
Nathan Johnson - The Feeling I Got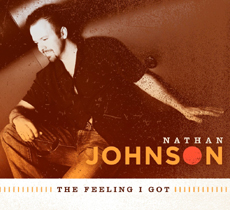 (January 2008) There is always a great deal of great music that comes from Texas in a multitude of genres. In this year's Grammy awards 35 Texas based artist and music industry professionals have been nominated for a Grammy in everything from Gospel to Rap to Latin music. It is a musically rich state. At Texas Music Times, we often focus on a relatively narrow part of Texas music in our coverage of what can be described as Texas Country and Americana that often bends into what can only be described as a new form of southern rock. We also look at what is still happening in the world of Texas Blues in some of our content as well.
Occasionally we venture out of the norm when something comes to us that is very special. Dallas based artist Nathan Johnson's new record fits perfectly into that category of a special form of Texas music. Nathan newest project, titled The Feeling I Got, is a great pop rock and vibe driven record that delivers an original style and feel to the listener. Nathan successfully blends a wonderful R&B style with a voice that is delightful and compelling. The musicianship of the CD is fabulous. Some of the guitar work includes another Texas singer-songwriter standout named Josh Daniels. There are several standout tracks on the record. "Rise Above," "Songs That Make Me Think About You," "Rain," "The Feeling I Got," and "The Daily Observer" are the most notable of the collection of 13 songs. In reality, there is not a bad cut on the CD.
The Feeling I Got has a specific groove that is unlike anything else. All the songs were written by Johnson himself and it is clear he has influences but the influences do not specifically come through in the recordings or songs. The arrangements and melodies are very "jazzy" with a touch of rock. However, the real uniqueness of the record is the blend of great lyrics in musical arrangements that border on complex without being overdone or too complicated. Listening to the record is a joy given the great lyrics, arrangements, and Johnson's voice. His voice is extremely smooth without being cheesy.
The Feeling I Got is a rare gem of a record that would be a great addition to anyone's musical collection.
For more information about Nathan Johnson and to listen to "Songs That Make Me Think About You," visit our Indie Artist of the Month page.
You can contact our TMT writers from our contact page.