REVIEW
Red Rooster - Walk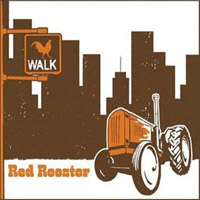 One of the things I hate about my job is also one of the things I love about my job. Please don't misunderstand. Everyone who sends me something they have recorded has earned, if nothing else, my respect. They have worked hard to achieve what they have done. If I don't give it a good review, it shouldn't be taken personally. I try to make my reviews constructive so that good or bad, we all get something out of it.
However, every now and then I receive something magical. It's that magic which makes all the listening to the music I don't really care for, worth every minute. A good analogy would be a miner, digging through those cold dark mines, day in and day out only to find nothing but more and more rock. Then one day after all the digging, all the sweating, and all the bleeding, he finally hits the mother lode!
That is what Red Rooster, and most recently their new record Walk (Wondermore Records) is. They were mining for coal and found diamonds instead. Walk is a gem and is some of the most original material I have had the privilege to review so far this year, and I've heard some masters. Kris Kristofferson, most recently.
A lot of the time when I listen to someone I try to think of who they remind me of. Red Rooster reminds me of no one. But it was music of this caliber that got me into the Americana scene in the first place. Every song is completely different from one another, but are all very much Red Rooster. They certainly have their own distinct sound.
The album is an almost seamless blend of rock, folk, bluegrass, jazz, and blues with a hint of twang every now and then, just for good measure. The core group consists of band leaders Jay Erickson (lead vocals) and Nat Zilkha (lead guitar), who, by the way have literally been friends nearly all of their lives. Then there is Susannah Hornsby (vocals and accordion). She is also the niece of recording artist Bruce Hornsby. The band also consists of Andrew Green (banjo), Dave Gould (saxophone), Brandon Doyle (French horn), Lucas Ives (drums), Daniel Engelman (bass), and finally Pete Nilsson (keyboards). In addition Dick Neal plays dobro, Jon Howe is on harmonica, Bob Parins on the pedal steel guitar, Rob Hecht on the fiddle, and Simon Wettenhall plays trumpet. It is quite a list of musicians, but all play very important roles in the successful sound that engulfs us during the listening experience of Walk.
One of my favorite tracks on the album is "Let It All Go", which is precisely what they do. It's actually about a band playing a song and they decide to, well, "let it all go". The song actually resembles a jam of sorts and I'm sure, even though I've never witnessed them live, they jam when performing it live. Just about everyone gets a solo during the tune. It's just a cool song with a somewhat of a Reggae beat to it. I loved it.
The very next track is a tune called "Raining in Los Angeles". It's a sad little acoustic, progressive bluegrass tune about dissolved love, and the pain and despair that goes along with it. The fiddle solo and the banjo picking are impeccable and the lyrics are perfect. Just when you think this is going to just be another progressive bluegrass tune cut from the same vein as Bela Fleck and the Flecktones, the horn section blasts in to let us know this is all Red Rooster, and not to be confused with anyone else.
Jay Erickson's vocals go far beyond his actual years. He has an amazing voice that fits the songs to a tee. I do not believe anyone could or should sing these songs. Ms. Hornsby's vocals are also perfect, her range, spectacular. The material is all original either written by Mr. Erickson or Mr. Zilkha save for two, which were written by Susannah Hornsby (Borrowed Money) and J. H. Hays along with Jack Rhodes (Satisfied Mind).
These guys are from New York, but we're not going to hold that against him. So is Bob Dylan and guess who else ... Jerry Jeff Walker. All kidding aside, I'll be watching Red Rooster very closely. They are one of the most talented and original bands I have heard since Lambchop hit the Americana scene back in 1994.
"Rebel" Rod says to skip a couple of meals, don't go to the social club a night or two. Instead, spend the money on Red Rooster's Walk. Go see for yourself at their website. You will not regret it.
You can contact our TMT writers from our contact page.