CD REVIEW
Ryan Bingham & the Dead Horses - Roadhouse Sun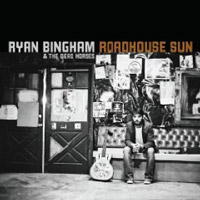 It's been more than a year and a half since the release of Mescalito, the first major-label album for 28 year old singer-song writer Ryan Bingham and just over a year since I caught up with him in Luckenbach, TX to talk about the road, Joe Ely and Patty Griffin, and the hardships and substance abuse that tore apart his family, and led him to a life on the road in the rodeo circuit, and eventually to his passion and calling-playing guitar. I have made no secret of my admiration for this extraordinary young man and his extreme marksmanship and gift as a musician, and so I was more than a little excited to receive the large yellow envelope bearing the words "Lost Highway Records" in the return label. It's no stretch to say that the proverbial mark had been set almost unattainably high for me with the release of Mescalito, and it's not a lie that I have been known to hand someone a copy of it, along with the words "listen to this, it'll change your life." In a sense, Bingham sang his way out of the grave and left his hardships on his guitar strings, and the result was Mescalito, a record so wrought with soul and imagery, it essentially, as I said, possesses the ability to change your life. The curse of the sophomore release is that it can sometimes end up feeling like a bad hangover in the wake of such success. With Ryan Bingham? Oh, no my frieds, not a chance. Roadhouse Sun, Bingham's second release under Lost Highway Records is as full of talent and kick ass musicians as anything out there. The sound is completely different, but the grit and the song-writing remain.
As an artist, you can write songs or you can actually say something-Bingham does both, and wraps his lyrics so cleverly around raw guitar riffs that the result is like no kind of sound I have ever heard. And I love it. Roadhouse Sun leaves the sun bleached imagery and drought-cracked west Texas land of Mescalito behind and instead travels to the valleys and rifts of human deprivation and suffering and hits strongly on the social and political turmoil that Bingham has witnessed in his country the last couple of years on the road. "With all that's happened politically and economically in the last couple of years, I felt like there was a lot to say," Bingham explained. "As a young person, I felt like it was time to gt involved, to write something that wasn't just about Saturday nights in bars." After a long year on the road, Bingham and his band, Corby Schaub, Matt Smith and Elijah Ford hit the studio to record, and the songs on Roadhouse Sun are what poured out. Produced by friend and former Black Crowes guitarist, and Elijah's dad, Marc Ford, the sound really draws on some of the earlier more retro style that was a part of Ford's history. Bingham describes his approach behind the board as "really old school. Those guitar tones and basslines, Marc knew how to get those down. He wanted to do it the way they used to do it." The result is pretty evident in a couple of the tracks in particular, including the opener "Day is Done," which begins slow, then explodes into an intermingled guitar and piano combination backed by Bingham claiming that he was "born a bad man's son." On "Change Is" Bingham steps out of the box as he in turn asks you to "take yourself out of your mind." The track is seven minutes of powerful, yet psychedelic guitar riffs and eccentric piano, with a twist somewhere near the middle...think Rolling Stones, "She's a Rainbow." Might give you a little shock on the first listen, but hey, take yourself out of your mind a little bit.
"Dylan's Hard Rain" spans the gap back to it's namesake (Bob Dylan's "A Hard Rain's A-Gonna Fall") and proves that the winds of change sometimes only blow the past through to the present. Bingham says of the folk inspired tune, "as far as Dylan? Things that were happening back then are still happening. Things keep repeating themselves." "Tell My Mother I Miss Her So" is sort of mountain tune wrapped in the sounds of a mandolin and banjo, and is a tribute to Ryan's mom, who recently passed away. "Country Roads" is one of my favorites on the record, opening up with a harmonica and the feeling of the open air and warm sun on Texas country roads. Bingham sings "Do you really think you know exactly where I stand? Or did I just let you down, you found I was just a poor man....I like to breath on country roads." The song hits close to home, and isn't cynical, it's just gives the impression of a man coming into his own, and coming to terms with who he is, both in his past and today. "I know I never stick around, I never loose track of time....I just let the sun shine down, let them big wheels roll." Give it a listen, it'll make you wanna put your tires down on a dirt road going nowhere and let the sun and the dusty air rush into your lungs.
"Bluebird" is the reason I was excited to hear this record. The first time I heard it was in front of an audience of about 100 people on a rainy night in Luckenbach, TX with Marc Ford playing lead guitar. This song is the most like the Ryan Bingham sound that I have come to love. It's a powerful, allegorical song that is the heartbeat of the record. "From a rope my heart is hanging, water rises on my lonely soul. But I'll take my chances breathing, you know I ain't gonna hold my breath. Cause I know if I stay waiting, my lonely soul gonna bleed to death." Live, you can't beat this song, it straight rocks. Marc Ford anybody? Even here, a little more polished then that rainy night, it's still the best song on the record.
The first radio single is already getting some air time, and not surprisingly, it is the most radio-ready, if you will. "Endless Ways" is a direct revolt against society, greed, and turmoil. It's loud, its in your face, and it's damn good. Bingham holds little back in this light-a-fire-under your ass political stomper
The album closes with one of my favorites, "Wishing Well." It's what I like to call a "big song," the kind you can play over and over again, and not necessarily because of the lyrics themselves, but because of the resolution you feel at the acceptance of them, you are left with a warm feeling in your bones. The guitars here almost remind me of ZZ top's "Old Man." "I've been wastin' my time, I don't need no more rain. I've been gone so long, I think the devil lost my name...When I go astray, loose my way, honey I go down to the wishin' well." It's a perfect closer for an otherwise outspoken album. Bingham leaves the political BS behind and focuses again introspectively on the changes he has seen within himself. "I think when I was younger, I had more of a grudge against society. I grew up poor and I grew up angry about it. But at some point, you realize you can't just be pissed off-you have to try to do something positive, and this record is my way of doing that."