MusicFest 2009: Party in the Rockies
by Haley Forehand
The most difficult thing about the annual phenomenon that is MusicFest is the simulation back into normal everyday life. That is not to say that a week's worth of mountain crushing, ringing eardrums, and the consumption of enough Wild Turkey 101 to kill a small south African village doesn't take it's toll on one's mind and body. Nay, those are fleeting things. The truth is, MusicFest, for better or worse, will change your life.
The first day of MusicFest is what one might call a false sense of security...the calm before the storm. Although there is a sense of urgency in every snowflake, in the eyes of every bell hop, one can not possibly conceive of what one is in for over the six days to come. Upon the moment of arrival in Steamboat Springs, CO, quite possibly even the three hour drive in from Denver, an unspoken excitement buzzes throughout the very air. A tangible glow beckons you closer as you make your way through the twisted road to the destination that will become your home for the next week, and that will change your musical experience for the rest of your life.
On this particular MusicFest, things started out a tad different than in years past, as it was the Texas Longhorns had quite a Bowl game to undertake. Our snow-covered Navigator pulled into Steamboat with just enough time to brave the local supermarket/liquor store, at which we laid claim to a handle of Wild Turkey, a handle of Tito's Vodka (proud sponsor for MusicFest 2009), a case of Tecate a case of Coor's yellow bellies, two bottles of wine, a peculiar bottle of Scotch, a bottle of Jager, which promptly made its way to our freezer, and 16 redbulls. Did I mention there were only two of us? Alas, the answer to the quite literal burning question of the fate of my liver. But I digress.
Check-in at the MusicFest is quite simply, a breeze. Which is of particular note, as there are some 2000 or so fans, artists, and staff on board for the week, but as we all know, John and Robin Dickson are the industry's God-send. As we packed our bags (and our liquor) onto one very full baggage cart, manned by a young man who was quite obviously perplexed by the latter's extent, we made our way almost too easily to our "up-graded" room on the third floor of the Steamboat Grand. Last year's hazy stumble through what is hotel hallway purgatory quickly became a foggy memory of the distant past, as we quite easily made our way to room 330, which of coarse as I mentioned, I had "accidentally" upgraded from the parlor room that we spent last year's MusicFest in. A quick jaunt, let me stress jaunt around our unnecessarily LARGE hotel room, record-time storage of our liquid stash, a smooth ten to the bell boy, and we were off to the Grand Ballroom, where Dickson Productions had so lovingly prepared an oversized viewing party for the 2009 Tostito's Fiesta Bowl.
MusicFest 2009 was off to a hellacious start. The Texas Longhorns squeezed past the Ohio State Buckeyes in a 24-21 fourth quarter miracle, which was in the favor of most of the MusicFest fans, (sorry Keith!) and so the journey began. What was more impressive than the Longhorn's victory was the amount of rot-gut whiskey that I consumed, but the beauty of the MusicFest is that somehow, by some grace, all things are somehow forgiven, and although the rest of the night was a, might I say very enjoyable blur, it was the start to one of the most amazing weeks of music I have yet experienced.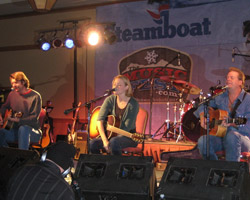 Shaking the cobwebs from our heads, dealing with the very bright Colorado sun which floods through industrial sized windows, Ben and I made it out of room 330 at an uncharacteristically acceptable hour of the morning, and made our way over to the MusicFest General Store, where the first guitar sounds of the day drifted out over the Shiner Bock tap heads and into Gondola Square, mixing with the buzz of chatter and the crisp Colorado air, and the faint smell of burgers grilling in the distance. First dibs on the acoustic stage, amidst the plethora of koozies, T-shirts, CD's and MusicFest memorabilia, went to the guys of Emory Quinn, and it was a delightful start to the sounds that I would enjoy there for the next several days. You can test out your ears in the Store every day as early as 12 o'clock, and a host of artists and open mic warriors occupy the stage until 4 in the afternoon, by which time you will have undoubtably already considered the impossible question as to where you will venture next. As fate would have it, the Store lead us straight to two of Ben's fellow high school alums, which were also in Colorado for MusicFest, and whom he had not seen in 10 years, so needless to say the day started out with a bang, which eased its way into a comfortable buzz and led us straight back to our very own Steamboat Grand, and into the Ballroom for an evening of unforgettable music.
Let me preface the Ballroom by saying that it is my favorite MusicFest Venue. There is without a doubt a magical feel to the room, which is in actuality a conference room on the west end of the lobby in the Steamboat Grand Hotel, but which for the week of MusicFest is transformed into the setting for some of the most memorable music of the week. Set, on most occasions, to resemble an impromptu stage, the low lighting and far better than expected acoustics of the room make it, in my opinion a better replacement to the no-longer living Steamboat Mountain Theater, than the Bear River Café, which has unofficially become the Theater's predecessor. Oh yes, and it is in the lobby of my hotel, which basically means that bottle of Jager, up there chilled to a perfect tasting temperature, isn't quite so scary after all.
On day one, which somehow seemed like day 30, the Ballroom was the roof over four of my favorite heads this side of Tennessee. Cody, Willie, Gary, and Micky Braun kicked off the week of music in pure Braun brother style, and somewhere in the midst of the moment, Muzzie, lucky dad of all four joined his sons for one of the coolest little acoustic performances I've seen in the last five years. Although the boys sang plenty of their tried and true favorites, Muzzie's cover of Harlan Howard's Heartaches by the Numbers, and crowd pleaser Is Anybody Going' To San Antone? seemed to steel the show. By the time that Bruce and Charlie Robison, sister Robyn Ludwick, and Bruce's new wife Kelly Willis took the stage, the bar had been set pretty high. But as is the nature of this group of artists, there were no plans for disappointment.
As Ben and I made our way to the second row of chairs, the boys and Kelly and Robyn struck up a four-deep performance of We're Gonna Have a Good Time, and so the mood was set. Bruce took slot number one, expressing his gratefulness to get to "sing with his brother" and Kelly followed up with her unrivaled pipes. The rest of the show was made up of El Cerrito Place, Wrapped, Sunset Boulevard, and Bruce's Travelin' Soldier, made popular by the Dixie Chicks, but to which Charlie promptly exclaimed "I'm no longer married to one of those," raising his beer and earning himself a well-deserved salute and eruption from the crowd. Harmonies on that song raised the hair on my arms followed by Robyn's performance of Boulevard, which she did exclusively for a foursome of young men behind us who are quite assuredly her biggest fans, and to whom in response to an enthusiastic "Boulevard!!!" she said "somebody wants to hear it." Bruce's followed up with My Brother and Me, which he admitted to be the "favorite song I've ever written", and Robyn sang a song inspired by "daddy issues," called Desire, which promptly earned her a loving kiss on the forehead from Charlie, as he exclaimed, "I'm so proud of her." A song about Bandera, rednecks and Saturday nights by Robyn, which is far more soulful than the aforementioned subject matter brings to mind and a group performance of My Hometown closed out the show, as I realized, "holy shit, we're on day one."
Brandon Rhyder sang that night with no one else but his trusted six-string and his never fleeting convictions and impeccable voice, which, once again amazed me, as is always his way- I don't think a full band performance that crept into the wee hours of a Colorado morning would have been more intriguing. And Dustin Welch, son of this year's Tribute to a Legend honoree, Kevin Welch introduced my ears to something which they have seldom heard before. Joined by his sister Savannah, and a large portion of the Motorcars, Dustin and his band delivered a rockin' musical experience. Micky and his Motorcars closed out the evening, which lent way to the first of many foggy mornings in Steamboat.
As the week progressed, I would be blown away by performances in the tent by Cory Morrow, The Band of Heathens, Randy Rogers and Ryan Bingham as well as unmatched acoustic performances and jams sessions scattered all over the mountain and in various hotel rooms throughout Steamboat. The Annual MusicFest Jam, hosted in the tent by the Ragweed boys, and joined by Lucas and Ray Wylie Hubbard, George Devore and basically any other MusicFest artist who happened into the tent, was moved this year to the end of the last night, and was, as always, not disappointing. In the Tent that last night, Reckless Kelly was joined by Adam Odor on the bass, and I'm certain all of Steamboat Springs, CO could see that smile of his.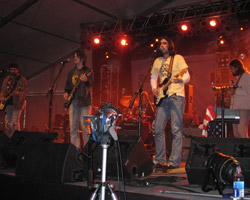 Although it is plainly apparent that I was moved by the Robison family performance, for me the most meaningful, and without a doubt the most touching moments of MusicFest were felt during the Tribute to a Legend performance honoring Kevin Welch. Four sets, and an entourage of artists were followed by a pure gold rock and roll performance by Kevin and the Reckless Kelly boys. In the first set of artists paying tribute, Dustin Welch and Lincoln Durham, husband and band duo counterpart of Liz Foster of Liz and Lincoln kicked things off, then Josh Grider followed suite with a sweet performance of Welch's Hill Country Girl, admitting that he himself married a girl from Kerrville, TX who is "very proud of where she's from." Jason Boland, Hayes Carll, and Cody Canada made up the rest of the group, Cody closing out the set with a moving story of why Kevin has been one of the most influential forces in his musical and personal career, and "cheating" with a second song. His rendering of The Road to Birmingham was in my top two performances of the entire week, and was delivered with so much admiration that it became almost painfully obvious why Kevin was this year's tribute honoree.
The Dedringers, Walt Wilkins, and Randy Rogers and Brady Black took the stage next. Jason sang Pushing Up Daisies, and Walt sang two songs and went on to tell Kevin that he was his "role model in every way." Brady and Randy gave an incredible beautiful, tender performance of a song that Kevin wrote and Waylon Jennings cut called I Feel Fine Today. "I saw him play it at Cheatham Street Warehouse when I was a kid, and he didn't know it well enough to sing it!" laughed Rogers. "That's when I knew he was the coolest son of a bitch around!" In set three, Jason Eady was joined by the Band of Heathens and told Kevin, "thanks for pushin' me on my path. Your music has meant more to me than anything else in my life." That powerful statement was followed by an equally powerful performance by Jason and the Heathens playin' Patch of Blue Sky. The Heathens finished off the set wit h Millionaire, saying that Walt "did our favorite, so this is our second favorite." Even acoustic, and missing two members of the band, the Heathens straight rocked.
The final set was composed of Micky Braun, Savannah Welch and her band, called the Fat Trishas, Dustin Welch and Liz Foster of Liz and Lincoln. Micky lovingly told Kevin, "Man I thought you were about the coolest person I ever met. Then a couple of years later I met your daughter, and well, you pretty much got trumped on that one!" Kevin's daughter, Savannah, the two other members of her band, and Liz Foster, kicked any man's ass alive with the best harmonies, soul, gospel, harmonica, and down right talent I've ever seen. Hands down, the best shit I've ever seen. Freakin' rocked. The last song in the tribute, written by Kevin for his babies when they were born was the single most moving performance I saw. Too Old To Die Young, which Savannah said "is probably the most depressing song he ever wrote!" was passed up by Cody Canada, as he said "that's the one I really wanted to do, but that is for one of your children to sing." At that moment, it was the most beautiful song I'd ever heard.
So as it was, the week was a success, Steamboat survived, and I am, somewhat regretfully, back in Texas. And in spite of all that I do not know, I do know this. The only constant is change, things never stay the same, and where there is nothing else, there is music. Without it there is no soul, but within it is the heart of mankind. And I have come to know a few truths about Steamboat. Number one, if you're buying $4 beers, drink Bock, not Amber. Two, altitude, time and space have relatively no consequence when you are on the high of mountain music. Three, Jager bombs are not the devil, only the devil's best friend. Four, take the shuttle down to the Tent, and if you can beg the driver to come back to pick you up...steep ice covered hills have no affinity to Shiner Bock laden footsteps. And five, buy your Lone Star Beer before you ever leave Texas. Those Coloradans can through one hell of a party, but as far as finding beer brewed in the Lone Star State? Well, you're on your own up there.