Bo Porter: The Honkytonk Man
by Katherine Abbott
The honky-tonk man, long and lean, stood before me with a guitar slung high upon his chest. He was clad in a black pearl-snap shirt with the tips of black steel-toe boots peeking out from beneath cuffed dark jeans. His long hair was pulled back in a tightly-woven braid from a lightly-lined tanned face with smiling green eyes.
Then, the honky-tonk man spoke.
"Hi," the man said, "I'm Bo Porter."
With a sweep of his arm, Bo Porter, singer and guitar-slinger for the Dixie Rockets, welcomed me to the dimly lit Saxon Pub.
He is a husband and a father. He is a biker and a businessman. A purveyor of American roots music with an edge. He has traveled from the southern tip of Florida to the northern reaches of Alaska, and everywhere in between, his guitar never far from his side.
Porter has spent the past three decades in and out of the music industry, plying his trade as a highly skilled espresso machine technician, waiting for the moment when his guitar strings would once again pull at his heart.
He and his wife, Andrea, circuitously arrived in Austin, almost two years ago.
Porter found himself in Wilmington, N.C., with a job offer for an espresso machine tech consultant, but, he realized Austin was only a short drive away and, turning to his wife said, "Let's go check it out." A mere 24 hours later, Porter and Andrea decided to make Austin their home.
The road-weary couple knew going into the music business would be costly and time consuming, so they found a "little-bitty" house on the west side of town. Porter said they are excited and are just "working our tail off trying to get the music going."
From his recording studio in Alaska, Stu Schulman, Porter's spiritual and musical mentor, said, "I've tried to make Bo aware of a couple of musical weaknesses, to make him a stronger performer. He's got the tools to succeed. Everyone likes him. He is a true friend."
Porter has been known throughout the Austin area as Bo Porter and the Dixie Rockets, but is "sliding away from this thing." His music is more honky-tonk, with a lot of drive behind it. On any given night they might play blues, like a Taj Mahal song or a Jimmy Reed tune. Maybe some old country by Jimmie Rodgers.
"We're really just roots music with an edge," said Porter. "We are a dance band. When the people are ready to shake a tail feather, we kick it up a notch."
Thus, Bo Porter and Honky Tonk Horsepower were born. They play regularly at Austin landmark venues such as the Saxon Pub, Hill's Café and the legendary Broken Spoke.
The new band name also encompasses a fresh lineup of musicians. Porter has no hard feelings or animosity toward any of his previous band members, but, says this is a business. And it's his business.
"I'm going to run my business my way. I have certain standards," said Porter. "My dad taught me to respect an audience; they come out here and spend hard-earned money."
He believes a good work ethic is necessary, and is a requirement for his band members. Your conduct, your dress and the effort put forth are all very important. He said that in many genres of music, like honky-tonk and rockabilly, image plays a large role. When you think rockabilly you envision pompadours, cuff jeans and girls in wiggle-skirts. Honky-tonk is pearl snap shirts and boots.
"Look at Ernest Tubb," said Porter. "Those guys always dressed nicely. When they showed up at the club, you didn't have to ask who the band was."
Respecting your audience and your employer includes timeliness. Porter expects his band to be set up and ready to play 30 minutes before the downbeat, and a 15 minute break means 15 minutes. He doesn't want to have to go looking for you out smoking a joint behind the dumpster. Porter believes that if you don't give a man his money's worth, then he has every right in the world to argue with you. His dad taught him that "there are more ways of stealing from a man than sticking your hand in his pocket."
A self-proclaimed capitalist, Porter says, simply, you walk into a bar and play well. The better you play, the better you get paid. He comes from a blue-collar hard-working family, who worked with every "damn thing we got." "There's no free ride anywhere," said Porter. "Not with me."
He was a fighter, a smoker and a drinker. He grew up in the Church of Christ. He was, and still is the black sheep of the family.
He is a honky-tonk man.
Porter was born into a family of musicians, in the small town of Niceville, on the Alabama-Florida state line. His father is the renowned singer and guitarist, Reid Porter. His uncle owned and operated the Panhandle Opry, where liquor, smoking and the devil's music would send you to hell. Porter remembers the hypocrisy of it all. A person would come right up to your face and say, "You are going to hell."
Even so, Porter loves his family dearly. He said they hold onto their values, and he chooses his own opinions.
Porter, and his brother and sister, learned how to sing and play at a very young age. Porter began playing the bluegrass circuit when he was the tender age of 14. He remembers being pretty wild, fighting and drinking. Although he is adamant that he was always responsible and honest.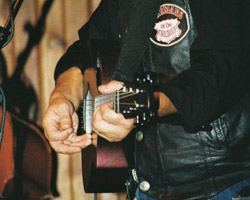 "I kept ending up in jail," said Porter, "but I never cheated nobody, never stole from anybody and never hurt anyone that didn't need hurting."
The last 15 years have found this hard-living man softening around the edges. He still enjoys a drink and curses a bit much, but now rides for the Guardians of the Children and has been a foster parent.
Schulman said he always called Porter "Grasshopper" from the TV show "Kung Foo." Schulman was like the old priest, trying to teach his protégé to be relaxed and centered.
"He breathes that hillbilly honky-tonk shit," said Schulman. "The kind of music that sells beer and starts fights."
In the short time playing in Austin, Porter has performed on a Time Warner show, an XM radio show with Gary P. Nunn and a plaza gig for the mayor. That day was formally named Bo Porter Day in Austin. The band is currently working on an album set to release summer or fall of 2009.
Porter is grateful for all he has accomplished throughout his life, and gives credit, first and foremost, to God. Porter says God has put him everywhere he is supposed to be. Some of the most important lessons he has learned are to be open-minded and forgiving, but, most of all, to be giving. To be good to your neighbor and be good to all children.
"Everybody's got something to give," said Porter. "The moment you need something, give something. By doing that, you'll get what you need."