Passion on Pavement: Behind the Wheel with Cody Canada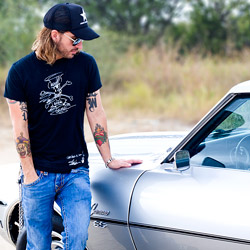 Cody Canada is laughing out loud. Walking down Beale Street in Memphis, he just experienced an Elvis sighting, only this time, the King of Rock 'n Roll was alive, in the form of a childhood friend from his hometown in Oklahoma. Seriously. "I can't believe I still recognized him after 16 years", he grins over the phone, "His name is Brian Dunning, and I haven't seen him since we went to high school together in Yukon. He went out to Vegas and made a ton of money as an Elvis impersonator. He was the young Elvis, not the dead-on-the-toilet version. Sorry I had to stop the interview, but I just wanted to go up and introduce myself."
Just moments before, Cody had quickly excused himself from our phone conversation with a sudden, "Hey, I need to go for a minute, I'll call you right back." No problem. A day in the life of Ragweed means signing autographs or stopping to chat with admirers. However, on this day, spotting the Presley imitator on the Memphis sidewalk was enough to transform the CCR frontman into a fan, and you can't blame a guy for wanting to say hello. Really, how many of us can say we had a high school Science lab with the King?
The thought of Presley traveling the Memphis streets in his 1955 pink Cadillac Fleetwood soon steers the conversation towards automobiles, and it quickly becomes apparent that sitting in the driver's seat is not just a hobby, but a passion Cody can picture in great detail. "The first time I can ever remember being behind the wheel was when I was sitting in my grandpa's lap, checking the cattle on his ranch in Seymour, Texas." His attention to automotive detail is obvious as years removed from childhood, he still vividly recalls the vehicle that sat in his own family's driveway, saying, "My mom had a baby-blue 'Smoky & the Bandit' Trans-Am with a gold bird on the hood. We had it from 1978 until 1983, and then my dad got rid of it. Some kid who was 16 got it, and everytime I saw the car after that it was more and more messed up. I wish I knew where to find it now."
Years later, a local Yukon church parking lot became Cody's teenaged training ground when the time arrived for his own driver's education experience. Taught to drive on a 1947 Willys Jeep by his dad, he remembers the day he got his license like it was yesterday. "I had passed my written test with flying colors. So, I went to take the driving test, and I was really unsure how to parallel park. I guess the instructor was in a hurry or something, because he got in the car and said, 'Drive it around the block and put it in park.' I thought, 'Man, is life always going to be this easy?'"
Unlike most kids who ease into their new-found freedom on the road with the occasional solo trip to the grocery store or their local mall, Cody quickly learned that life in rural Oklahoma meant a much steeper learning curve, and possessing a license meant jumping in with both feet on the pedals. "I was working the oil fields with my dad, and the first time I ever drove myself anywhere was when he put a 3,000 pound wellhead in the back of the truck, and I had to take it to Woodward, Oklahoma. I got the feeling he was testing me."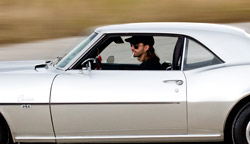 After receiving his license, an employer's promise of a '65 Chevy in payment for a summer's worth of work ended in frustration after the bossman instead chose to give the car to his own son. Taking $900 of his own saved earnings, Cody and his dad teamed up for his first purchase. "We went to George Fowler's, and I had two trucks to choose from. I picked a '70 Chevy pickup that my dad said was colored baby-shit yellow, but it was more like a duller-bus yellow. My dad said he would split the cost with me, so I gave George my $900 and my dad added a horseshoe ring with diamonds. My mom had given him the ring, but after they got divorced, he started getting rid of everything. Later, George's son gave the ring back to my dad, and then he gave it to me. I still have that ring today."
With the new-found independence only a car can bring, Cody's early years behind the wheel opened up many wide-ranging life experiences, laying the foundation for his musical career. "We were pretty much like other oil field towns", he states, "You work hard during the week and on Friday and Saturday nights we'd drive out in the country, put down our tailgates, drink beer, play guitar, and try to avoid the cops." Though years removed from his teens, Cody's portrayal of a frustrated youth living the small-town existence was never more clearly defined than in CCR's video "17", in which the band's run from the law took place in a vehicle that looked much better on TV than in real life. "Yeah, it belonged to the lady who ran the gas station where we shot the video", he laughs, "I drove it during the filming. We tried to make it burn out, but it wouldn't even come close, so we had to bleach the tires. That car was in bad shape. We thought we were going to drop the transmission on that thing just trying to start it."
Currently playing in front of crowds that make most bands jealous, you might think that the financial rewards of a successful career would cause the driveway at the Canada household to be lined with the latest and greatest automotive excellence Detroit or Europe has to offer. Think again. Sure, the recent purchase of a Tahoe "baby wagon" is essential for the safety of sons Dierks and Willy, but as a History Channel enthusiast and a student of the Vietnam and Korean Wars, Cody has a healthy respect for the past, an interest that includes the cars he drives.
"I've got a '68 Camaro that we bought for Shannon. We got it off an auction from Massachusetts. She drove it around the block once, but after that was scared it might get scratched up. I told her, 'If you're going to have a car like this you gotta drive it', so now it's mine. I wanted it to have the original paint from 1968, and it turns out it was powder blue. I didn't want that, so now it's silver with a black stripe down the hood. I also have a '92 Jeep CJ and that's my baby. It was white when I got it, and it looked like it had been painted with a paint brush. Now it's maroon, and we drive it in the spring when it's warm. We'll take Dierks by Grandma's house and then drive up to Austin on the back roads."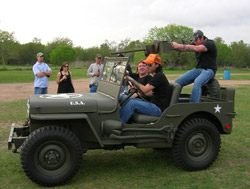 Cody is now the proud owner of the very same 1947 Willys Jeep that he navigated through the church parking lot in Yukon while learning to drive. Originally purchased by his dad and uncle to check on cattle at a Waynoka, Oklahoma ranch, he received the Jeep as a 30th birthday present from his father, who told him, "I won't be around when Dierks is 16, so I want you to teach him to drive in this." Though as of this writing, the Jeep is in "about 1000 pieces" while being restored by Pappy's Paint & Body in Magnolia, Texas, his interest in honoring his family's past shines through.
"My grandpa was in the Korean War, and I want it to have that type of look", he says. "We've talked about putting numbers on the side of it, like 377, 17, and 42, from our songs." Finally, even over the phone, his mischievous side shines through when he states, "I also want to put a 50-caliber water cannon on the back, so we can go to the river, drop a hose in the water, and shoot people with it."
Having made many friends over the past 13 years on the road, Cody has come across folks that also share his love of 4-wheelers, including buddy and first-son namesake Dierks Bentley. "He came out to the house and saw my Jeep and just fell in love with it", he says. "So he bought a '77 Jeep and had it restored. Now he pulls it behind his bus when he's on the road." So, what if money was no object, and he could buy any car his heart desired? Would it be an unpronounceable German rocket straight off the Autobahn, or perhaps a 4-wheeled "MTV Cribs" monstrosity with enough chrome and bling to blind his Hill Country neighbors? The answer? Neither. "I would love a 1961 Cadillas convertible, painted candy-apple red," he firmly replies, with absolutely no hesitation.
Yep, that sounds about right. With a passion for history and a deep sense of love and loyalty to his family and friends, Cody Canada just wouldn't look right driving anything but a Cadillac, a Jeep Willys, or a '68 Camaro. Like him, they're old school. Timeless. Classic.
By the way, be on the lookout for a baby-blue Trans-Am with a gold bird on the hood. And if you happen to see it, give Cody a holler. He wants it back.