Granger Smith: "Livin' Like a Lonestar," Wherever the Road May Lead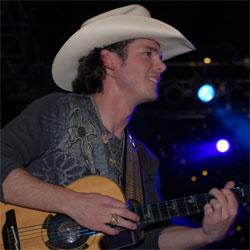 Who in their right mind would want to be colorblind? Just ask 29 year-old Granger Smith, singer/songwriter, who thinks it would greatly help his memory problems. "Colorblind," currently climbing the Texas Music Charts in the top 20 singles, is the latest hit from his 2006 Livin' Like a Lonestar album that he recorded and engineered in his own home studio. The smooth, intoxicating melody of "Colorblind" whisks you away into Smith's memory which holds green eyes, blonde hair, the color of her lips, and his desire to be colorblind.
"I talked to a songwriter friend of mine who is colorblind and a few years later I was still thinking about that," Smith reflects. "If you didn't have to think about colors, I think it would help a lot with your memory problems."
Drawing from musical influences like George Strait, Smith describes his style as traditional country, sans rock. He first got his big break at age 20 when he had the opportunity to work in Nashville with EMI Publishing. He left school in the beginning of his junior year at Texas A&M University and moved to Nashville, where he was met by a slew of veteran writers who had hit songs before he was even born. Smith would throw out some lyrics and they would fire back with questions that would challenge him to really think about the meaning behind his lyrics.
"In Nashville it was great to see how the studio works, how the musician works with the producer, and how things flow. Even though I typically don't co-write as much anymore, I can still hear the questions they would ask me," Smith said.
Four years later, Smith had a new publishing company and manager who allowed him to make the trek back to College Station, Texas where he finished school. Things really began to take off for Smith while he was going to class and playing small gigs on Thursday nights. Before too long – guitar and diploma in hand – he was traveling on the weekends with a loaded schedule, playing to packed houses. And it's still obvious that playing live is his favorite part of the gig.
"That's the thing I love about the Texas country music genre. You can record an album in your house, go out the next day, and start playing it live to a packed house at a city in Texas. It's just so fun – you can't do that in any other state."
The feeling of Texas is all over his music in songs like "Livin' Like a Lonestar" and "What Would Jesse James Say" that force you to keep the rhythm with some part of your body. Smith sings of the things he loves about Texas – freedom, the open road, small towns, and the promise that he doesn't perform "just 'cause there's money on the road."
"My music is not money-driven. I would do it for free if I could figure out how to pay the bills," Smith banters. "I love it that much, just bringing music to people and hitting the road with the band – that's the best part."
Even if the road leads all the way to Iraq.
For two years running, the Granger Smith Band has traveled to Iraq to play for the troops. It was so important to him that Smith poured his time into contacting Aggies that he knew in Iraq until finally an overseas booking agency made the dream a reality. Smith says that bringing a piece of home to the men and women in Iraq and helping to boost their morale is what he is most proud of as an artist.
So what's next for Granger Smith?
Smith is currently working on his fifth full-length album and hopes to have it finished by the end of the year. Once again, he's recording and engineering it right out of his home studio with his own band. Whatever the future may hold, Smith maintains a positive outlook on his career.
"In general, I am pretty easy-going and happy. I try not to let things bother me, but I always look for ways to improve," says Smith. "I want these next 10 years to be a total growth. I want to help people as much as I can by giving music back – just as much as it's given to me. It takes me to such cool places that I always feel like I need to give back in order to keep things spinning."
Check out grangersmith.com for more information about Granger Smith, including tour dates, and how to get your hands on his music.