REVIEW
The Dedringers - Sweetheart Of The Neighborhood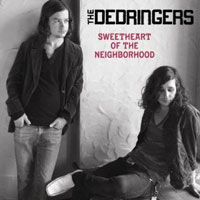 People who know me understand that I am not a bandwagon-hopper. In fact, I am generally of the opinion that if everyone likes something, then it's probably not "all that." Take the latest Batman movie, for example....
However, I never let what seems to be my congenital predisposition toward contrarianism stand in the way of an honest and as-objective-as-anyone-can-possibly-be assessment of whichever artistic work has been presented for my scrutiny. And that brings us to the long-awaited full-length album by The Dedringers.
I first saw Jonny Burke and Sean Faires, the frontmen for The Dedringers, on October 14, 2005, when they opened for Hayes Carll at Floore's Country Store in Helotes, Texas. I was struck by their youth -- were these kids still in high school? -- and I was moved by the depth and maturity of their songwriting.... Nah, I'm bullshitting you.... I thought they were some pretty cool and talented kids, but I don't remember much other than that, except that I did remember them and made a note to keep them on my radar screen.
Sadly, I never was able to catch them live again, until April 2008. Jonny looked pretty much the same three and a half years later, but Sean had some wacky outfit on, including a pair of jeans that displayed his pubes when he bent back to wail on his guitar. (Note to Sean: Shave lower or wear your pants higher.) But you know what? They did an hour-long set and it rocked and it electrified and it showed me that these kids were stars in the making.
Fast forward a few months to the release of Sweetheart Of The Neighborhood. This is the album that everyone is talking about. Everyone who appreciates good music is playing it, from Hank Moon on San Antonio's 92.5 The Outlaw to Jessie Scott on XM Radio's X Country. Yup, quite the bandwagon for this Dedringers record.
Finally, a well-deserved bandwagon.
Sweetheart Of The Neighborhood is one of this year's great records. If you can listen to the songs "Sideman's Blues" or "Institution" without singing along, then you have more self-control than I do. The songwriting, shared by Faires and Burke, is tight, and the vocal performances, also shared by Faires and Burke, are edgily appropriate.
When Jonny plays a little numbers game in his song "Seven Days And Seven Nights," I am in awe of the lyric:
I had a girl on Second Street, we'd head on down to Third,
For the seventh time in seven days, the hundredth time that year.
We'd smoke us up four cigarettes, then finish off a fifth.
By the time that we got down to Sixth we could not even hear.
Sean's lyrics tend to be a bit less esoteric — just a bit, I said — more straightforward, but certainly no less powerful. From his song "Tonight":
Have a drink, dear. I'll pour you anything you like.
We'll ask the Cold Shoulders for some ice tonight.
And if you wanna leave, dear, and cut out on this night,
We'll ask the sharp dressed men for a knife tonight.
Sweetheart was produced by R.S. Field, who's worked with Hayes Carll, Allison Moorer, Billy Joe Shaver, Scott Miller, and Mando Saenz, among other notables. There are no missteps, with the production being big where it needs to be big and small where it needs to be small, which simply means that the artists' talent shines through. As is more and more the case these days, the bandmates play on the record, as opposed to a stream of studio musicians, so John Michael Schoepf and Josh Garner, The Dedringers rhythm section, play bass and drums, respectively, on all tracks. I really like to see the traveling band playing on the record and I think other fans appreciate it, too. We're not looking for slick, we're looking for real, and that's what the Dedringers give us, a nice big dose of raw reality. Dig it.
There is one cover on the ten-song album, Townes Van Zandt's "Black Jack Mama." The rhythm guitar and vocal stay pretty true to Townes's original. Normally I'd take an artist to task for that. Usually I'd say, "Why do you bother to do a cover if you can't make the song your own?" But it seems to me that the 'Ringers are paying tribute to The Man, showing everyone that while these kids may seem a bit rebellious, they know enough to respect the greats who have paved the way for their brand of rebellion. They realize that they have to give respect to get respect.
Speaking of respect, maybe I should stop calling Sean and Jonny "kids" and give them some well-deserved props for melding modern Texas Music with British Invasion riffs. Maybe I should hammer home the fact that The Dedringers are writing wonderful lyrics and melodies and creating music that makes my world a better place.
And maybe you should put the brakes on that bandwagon for just a coupla seconds -- I want to hop on.
You can contact our TMT writers from our contact page.