REVIEW
Eliza Gilkyson - Beautiful World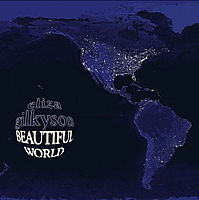 Eliza Gilkyson has a well-deserved reputation in the world of folk music, but on Beautiful World she spreads her wings a bit, creating more of a Texas pop country sound. Let me emphasize right up front, though, that I don't think there's anything here that will alienate current fans. Eliza's in great voice and the songwriting is up to her usual high standard. The sound is just a bit fuller, adding some color to her often black-and-white delivery. Although it may sound trite, I can describe it with only one word: Wow!
The first song on Beautiful World, "Emerald Street" proclaims one possible reason for this new sound: Eliza's in love! (Or at least she's choosing to write about being in love....) In fact, in the song, she's walking down the street whistling. Yes, there is whistling. I'm picturing a live action Eliza strolling down a cartoon tree-lined avenue, a bird flies in, perches on her outstretched index finger, a squirrel hops up and rides along on her shoulder, Eliza turns to the squirrel and they share a knowing glance. (Can we make that video? Note to self: call Disney.) This is easily the happiest and I-mean-this-in-a-good-way corniest — can the external manifestations of true love ever be anything but corny to observers? — song I've heard in years. I'm smiling right now just thinking about it.
In "Great Correction," Eliza resurrects the classic phrase "let your love light shine." Was that a Mitch Ryder song? Anyway, great lyric that deserves this homage.
"The Party's Over" describes a party I wish I'd been at. Wait, I think I was there. Or was I? Yeah, that kinda party.
"Dream Lover" takes on the world of ... internet porn! Tastefully and, even, approvingly, Eliza sings:
I'm your dream lover.
Your wish is my command.
I'm your dream lover.
Better than a one-night stand.
Dream lover, close as the palm of your hand.
This is a peppy, uptempo number that may have you, as it did me, rewinding the first time I heard it. Did she just say that? Yup, she did.
"He Waits For Me" and "Runaway Train" lead into the album's best track, "Beautiful World." It's a haunting song that caresses your senses to evoke the same emotions as, ah, what is that great song that ends Donnie Darko? "Mad World." Accompanied by a plaintive guitar and adagio keys, Eliza delivers these particularly poetic lyrics with a powerfully poignant vocal performance.
Beautiful trees breathing the air alive,
Beautiful leaves trembling and dry.
Beautiful bees moving from flower to hive,
Beautiful seas mirroring sky, beautiful sky.
The song leaves a lasting impression, perhaps the last cry from the artist that our Mother Earth may be not-so-slowly disintegrating even as we stand by helplessly, sentenced to be mere observers of the damage the excesses of mankind have wrought on this planet. This song gives me goosebumps.
(NOTE: I'm listening to this song right now as I sit on a cruise ship traversing Alaska's inner passage. I'm staring at the ocean, looking for whales, earbuds in, feeding my mind. This is a powerful moment.)
The album wraps with "Unsustainable," where Eliza tries her hand as a lounge singer and makes you wish you were sitting in that Holiday Inn sipping on a vodka martini with just a splash of Rose's Lime, fingers intertwined with your significant other.
With Beautiful World Eliza Gilkyson re-invigorates her repertoire with a collection of well-composed songs, delivered with a lust for life that fans know was always there, but which now may be a bit more accessible to the average music lover. Beautiful World opens the Eliza's door to the general public. Step on through.
You can contact our TMT writers from our contact page.