REVIEW
The Mighty Orq - To The Bone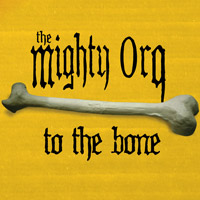 To be sure, The Mighty Orq's To The Bone is not a country or Americana record. It is, however, a great rock record from a band with a style that is long gone in rock and roll.
If there is a current form of music being made that can be called rock and roll The Mighty Orq is making it. It is sad that mainstream radio no longer has a contemporary "rock and roll" format like the music The Mighty Orq is putting out. If they did we might have more great bands like this one giving us great music without the struggles of what it takes to get it out there as independent artists.
The Mighty Orq rocks out as a three-piece band based out of Houston. They are not unlike another band of previous years, also from the Houston area, called ZZ Top. However, the Orq sound is more roots driven with a much stronger blues undercurrent. Their sound comes out at the listener like a freight train on a lonely track in the west Texas desert.
The energy and driving sound of To The Bone fits the reputation of the band's popular high-energy live performances. One of the best live bands in Texas in terms of raw energy and pure visual and audio entertainment, The Mighty Orq's guitar-driven beats and big punches will bring a smile to any 70s and 80s rocker. The top tracks on the record are "Hanging On," "Set Me Free," "If You Will," "4+1," "The Good Love," and the slower "Rainy Day."
The absolute best song on the CD is "HO." The tune is a raucous play on words that has to be heard to understand. It is most certainly a "dudes" song but cool "chicks" will get a kick out of it also. If you are "ate up" with political correctness you are going to hate it. But then again, it is doubtful that the Mighty Orq recorded the song for the hypersensitive crowd anyway. "HO" is one kick ass song that pumps with cool lyrics and driving guitars.
The thumping electric guitar work with great rhythms makes To The Bone a record for anyone who has a yearning for what rock and roll should be. A fantastic record.
You can contact our TMT writers from our contact page.