INDIE ARTIST OF THE MONTH: Matthew Ballard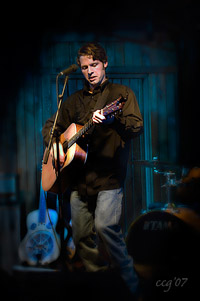 Matthew Ballard's current CD is titled Time. It is an appropriate name as it is only a matter of "time" before everyone knows about Matthew Ballard. The CD has some Texas standouts contributing to the 11 great tracks on the record. Matt Powell (Wade Bowen Band), Cindy Cashdollar (Sue Foley Band, Van Morrison, and others), and Ric Ramirez (Two Tons of Steel) contributed to the tunes behind Ballard's poetry on the record. The real treat of Time is the songs and Ballard wrote all 11 tracks as a solo author and his songwriting is what is most noticeable about Matthew as an artist.
His songs are a blend of regular country music themes and some Texas social history. The best song on the CD is "The Devil in Palestine" that describes the common Texas struggle of those who live off the land and those who become rich by it. It is the same theme in Texas since independence. Ballard tells the story with class and tragedy.
Ballard's extraordinary songwriting is bound to move him to the top of the pile in Texas music and that is a good thing. Nothing can keep a good songwriter down and Matthew Ballard has the poetic skills that will serve him well. Everyone should keep their eyes and ears on Matthew Ballard.