REVIEW
Paula Nelson Band - Lucky 13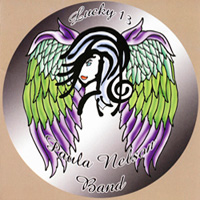 She may have a famous name and famous father but Paula Nelson's music and voice stands tall on its own. If anyone had any doubt, her new project Lucky 13 will soothe the most hardened of music critics. Let's face it, sometimes talent is in the genes, and Paula has obviously gotten a good amount of whom and what her father is musically. However, she is not Willie light or really even Willie-ish. She has her own style and is different. In some of the guitar parts of Lucky 13 it is obvious that Willie's fingers are on the frets but other than that this record is pure Paula.
Paula ranges from Blues to Beatles on Lucky 13 and the result is a fun musical ride with a little yodel mixed with jazz, blues, country, and kick butt rock and roll. Paula penned ten of the thirteen tracks and two of the covers are duets with vocal and musical star George Devore. The two collaborate on John Prine's "Angel from Montgomery" and the June Carter and John Cash made famous Billy Wheeler and Jerry Leiber written "Jackson." In both duets Devore and Paula's voice match up perfectly. Those two tracks alone are worth the price of the CD and more. Devore can also be heard in many of the arrangements with his silky acoustic guitar work.
The absolute greatest joy of Lucky 13 is Paula's keyboard work. She is a player of rare talent. The Keys are an instrument not used enough in Texas music but Paula's uses them with masterful elegance. Keyboards are almost the backbone of Lucky 13. They are what make the record so different and unique. Use of the various keys allow Paula to move effortlessly through the genres while the listener is graced with audible nuggets and treats that keep them listening for more.
In addition to the duets with Devore the most notable tracks on the CD are "Fire Below," "Baby You're Mean," "Find Your Way," "Standing Tall," and "Day to Day Love." In all Paula Nelson delivers her own individual treat of a record in Lucky 13. At times it is more like Delbert (McClinton) than Willie but nevertheless it is a kick butt fun record and stands all on its own with or without a famous name. A must have.
You can contact our TMT writers from our contact page.