REVIEW
Bart Crow Band - Desperate Hearts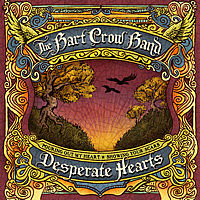 The Bart Crow Band's sophomore release is packed with great songs that are sure to bring a smile to enthusiastic Bart Crow fans. The CD contains 12 new tracks and a remake of "Driftin' in the Wind" with harmonies added by Fallon Franklin.
Desperate Hearts is the follow up record to the extremely successful Finally..., which contains the Texas and Red Dirt mega-hit "Wear My Ring." Of the 13 songs on Desperate Hearts the most notable tracks are "Back Down," "Hollywood," "Understand," "Sweet Imitations," and "Desperate Hearts."
The CD is bound to take the Bart Crow Band to another level with their brand of country rock supported via the foundation of Crow's exceptional songwriting.
You can contact our TMT writers from our contact page.