REVIEW
Miles from Nowhere - Bloodline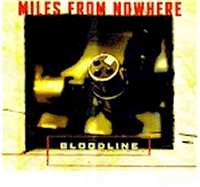 (January 2008) The boys from Miles From Nowhere want everyone to know they're honest, God-fearing, hard-working, blue-collar country folk. It's evident in the way they play and they way they sing and the songs they write. Especially in the songs they write.
On their debut album, Bloodline, MFN goes to great lengths to celebrate life in the country and their heritage as products of North Texas farmers and mill workers. Much of the CD is devoted to this subject, and there are moments certain lines seem cribbed from Steinbeck's Grapes of Wrath – lyrics rooted in earthy heartache and dusty hopelessness. And the music of this prototypical "red dirt" band harkens Neil Young with Crazy Horse on downers: melancholy guitars, distorted, crunching their way through every dimly lit verse and darkened chorus. The album is fraught with mid-tempo, slow-burners – from the title track, singer/lead guitarist Merrol Ray's ode to familial patriarchs, to "Stand", singer/rhythm guitarist Adam Walker's love-loss ballad – that can leave the listener listless by album's end.
But there are several bright spots in this collection, and those do well to outshine the other tracks. "When I Get Mean" is an in-your-face, driving ditty that just dares you to tangle this foursome. The song is best when drummer Wesley Joe Malone's hypnotizing jungle beats and bassist Joe Allen Jordan's thump-thump-thumping anchor Ray's slicing guitar hook – the audio equivalent of the cinematic masterpiece Fight Club: you just want to give someone a good ass-kicking. Other up-tempo numbers, "Hard Livin' Man" and "Mona Sue", have a way of getting stuck in your head days later and make you eager to hear them again.
For the money and the genre, Bloodline, is a good buy and a good listen. It might not stand the test of time, but that's not to blame Miles From Nowhere. With producer Dan Baird of the Georgia Satellites at the helm, one would expect more of an audio tapestry of a band whose live shows are increasingly more high energy than what is captured here. And not that there's anyone or anything to blame; you get what you get any time you work in Nashville (where the album was recorded).
Bloodline will, however, stand as a solid introduction to this new Texas country band. Winners of the 2006 Shiner Rising Start contest, Miles From Nowhere has the potential to follow where other country rockers and Southern rock grandfathers have gone before. The only question will be when they stop following and blaze their own trail…
James Dunning is a singer/songwriter who fronts Lost Immigrants, a Texas-based Americana band.
You can contact our TMT writers from our contact page.