AUDIO INTERVIEW: Eli Young Band
| | |
| --- | --- |
| | |
| | Play the TMT Radio interview recorded November 24, 2007. All songs accompanying the interview are from EYB's album Level. |
| | |
(January 2008) With likely the fastest growing fanbase of all emerging acts in the Southeast and Southwest, the Eli Young Band has been turning heads with their high-energy performances and a string of sold out shows. In the last year, the Eli Young Band, comprised of Mike Eli, James Young, Jon Jones and Chris Thompson have hit their stride, selling as many as 2,000 tickets a night in multiple markets.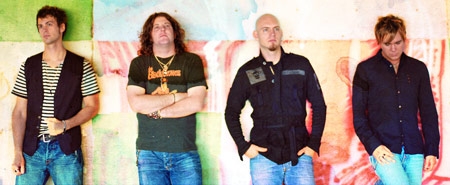 After the release of their 2005 debut, Level, on Carnival Records, the band quickly earned comparisons to the Jayhawks and Counting Crows. With high praise from tough music critics and national exposure on CMT and GAC, the Eli Young Band began to build a following well outside of their touring base. Without the benefit of major radio airplay, in 2006 the Eli Young Band was able to draw hundreds of fans each night in brand new markets, making a huge impression on promoters across the country from Albuquerque to Chicago. In high demand, the band released Eli Young Band Live at the Jolly Fox late in 2006, giving their fans a way to take a piece of the live show home with them. After signing a booking deal with Monterey Peninsula Artists Paradigm last fall, the band has continued to expand their reach on the road.
While they were winning over new fans each night with their live show, the band was also making writing a top priority out on the tour. Between dates they made time for writing trips and retreats at the Young family ranch. Energized with new songs, the band was ready to begin working on a new album late last year. Under the guidance of music row veteran and producer Frank Liddell (Jack Ingram, Miranda Lambert) and co-producer Mike Wrucke (Miranda Lambert, David Nail) the band took time off from touring to record at Omni Studios in Nashville, Tennessee.


Several months later, the band has nearly completed the album. With their signature sound at the forefront; powerful vocals, hard hitting guitars and a driving rhythm section, the band is anxious to find out how their fans react to the new music on tour.
Early in 2007, the Eli Young Band signed a management deal with George Couri and 4th Floor Management, whose cients include Jack Ingram, Ben Kweller, Blues Traveler, Robert Earl Keen, Sparklehorse, What Made Milwaukee Famous, as well as Lance Armstrong, Austin City Limits Music Festival and Lollapalooza. Armed with new management, a new booking agency and new material, the band is ready to bring their signature brand of country to a wider audience. With a rigorous tour schedule ahead of them, including sold out headlining dates and key opening spots with Pat Green, Robert Earl Keen and Jack Ingram, as well as a spot on the perennially sold-out 2007 Austin City Limits Music Festival, the band is right on track.


You can contact our TMT writers from our contact page.