Stoney Larue: Happiness is a Warm Harley
by Randy Cunningham; photos by Brian Kirkpatrick
(November 2007)
It's Friday afternoon, and from the sound of his voice over the phone line, it's obvious that Stoney Larue is one happy boy. Relaxing on his tour bus that's currently headed for a show that evening at Schroeder Hall outside of Goliad, Texas, he enjoys a favorite soda and a pecan praline purchased moments before at an interstate convenience store. Hey, life on the road is even better when you've got afternoon comfort snacks.
With his band whooping and hollering in the background during a Tiger Woods Golf full-scale video battle royal, Stoney is obviously in full-on food mood, and inspired by the praline, he recalls one of his favorite home-cooked sweet treats. "Man, I love pecan pie", he states, voice grinning, "That's my favorite kind. I can't go without it. My grandpa makes the best I've ever had in my life, and my mom's is great as well. But there's also this place called the Gristmill (located in Gruene) that has this chocolate Jack Daniels pecan pie. It's so amazing it should be illegal."
Sufficiently sugared and settled in for the ride, the conversation steers towards another topic that provides this road warrior with a real sense of comfort. For a guy that spends countless days away from home, you might think that hitting the roads during his personal downtime might not be his idea of fun, but for Stoney, the roar of a Harley can bring his tired mind and body back to life, especially when he's holding the handlebars. With the miles rolling underneath his feet, he discusses fixing his wife's car, green spackle, and one of the greatest days of his life.
When you were a child, what vehicles sat in your driveway?
"There was a Ford Falcon and a station wagon. There was also a funny car in the garage. It was my uncle's. He raced alcohol cars. He ran 'em down in south Texas in the Rio Grande Valley. When I was young I remember hearing the sound it and thinking that the Rapture was coming. I never went to the races with him, but I did with my other uncle who raced stock cars around a dirt track. I went to a lot of those races. That was down in south Texas, too."
What was your first car?
"My dad bought my first pickup, a '66 Ford Fleetside. It had a 352 in it before they stopped making a 352. He let me drive it 'cause he already had a van, so it was always his truck, you know what I mean? That way I couldn't say it was mine. I think he paid about $2,500 for it. I really don't what happened to it, I think he might've sold it. Probably did. I had it for a couple of summers."
Ever take Driver's Ed.?
"We took Driver's Ed. while I was in high school in Stillwater so we could get the piece of paper that said we had taken it. We ran some errands while we took it, my buddy Kyle and I."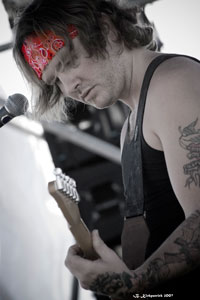 Do you remember the day you took your driving test?
"I don't really remember much about the day I actually took it. We always drove before we had our license, so it wasn't really a big deal. I do remember the first time I went to the store without my license. I think I was 15. My dad sent me to get him some cigarettes. (laughs) When I was legal, the first place I drove myself was Boomer Lake. I just drove around. The truth is that I tried to drive as much as possible, and I really didn't have anyone to tell me I couldn't, either. I used to go to rodeos with my buddy John."
Do you consider yourself a mechanic?
"I never took an auto shop class, I just kind of grew up around it. My buddy Kyle and I used to rebuild cars at his dad's place. He had an air conditioning place and I lived with him. His dad had a '29 Model A and also a '32 Buick, and then we built his pickup, a '79 GMC. We made 'em into hot rods, you know? I enjoyed the hell out of that. I haven't done it in awhile, but the last thing I did about 2 years ago was replace the head gasket on my wife's Mustang. The cars I'm used to working with don't have all that damn memory and computer chips. But, I got hers back together with a few extra parts."
What sits in your driveway today?
"There's a Lincoln Navigator L Series, and then there's a Harley. That's it. (laughs) Except for my old van, the one I used to tour in, but I don't drive it anymore. Having a bus now is really nice, and it helps when I'm writing songs. It's hard to get out a pen, paper, and a bottle of something when you're in a van."
You mentioned your Harley. Talk about the first bike you owned.
"My first bike was a Kawasaki 400 that I rebuilt and drove during high school. I went to go paint the damn thing, so I went to Wal-Mart because I didn't want to spend a lot of money on it because I just wanted to cover up the rust. I bought some green spackle. It was like indoor spackle. I sprayed it on my gas tank and the fenders. The first time I spilled gas on it, it got all sticky. It had pieces of pulp all in it. It was the worst thing that could even be done to that bike. I ended up selling it to a college kid for a couple hundred dollars."
The day someone buys a Harley is a significant event. What do you remember about the day you bought yours?
"It was at Alamo City Harley Davidson in San Antonio. I kept on tellin' my wife, 'I want a Harley. I really want a Harley. Can we afford it? Tell me when we can afford it.' Finally, one day she said to me, 'Let's go get you one, but that'll be the only car you can have.' I said, 'That's fine with me, I don't need a car. If I need a car, I'll borrow a car.' So we went to Alamo City, and I saw the red, white, and blue '06 Sportster Custom, and rode out with it. I mean, it was amazing, you couldn't wipe the smile off my face. That was impossible. Ear to ear, you know? And then, a year-and-a-half later, I got the '07 Custom Heritage Classic, blue and white, and I got it in the shop right now getting' Apes on it, and I can't wait to get it out."
What gets you in the mood to ride?
"Well, everytime I get on that bike, I automatically make it one of the places I can go and really just be with myself, you know? I use it as one of the places for meditation. I don't even have to tell myself to do it anymore, it just happens everytime I hop on it. I like riding out Highway 46 to Boerne, and then there's Devil Backbone, down in that area. Really, I enjoy going anywhere out here in the Hill Country. Out here if you go 150 miles in any direction you'll run into some beautiful country. It's a whole different world when I'm out riding. I was trying to explain it to Jason (Boland) the other day. We were just chillin' out, drinkin' coffee. It's just totally encompassing, man, to have that much power and freedom. It's like another dimension."
Do any friends or fellow musicians enjoy riding?
"My bass player Jesse (Fritz) and I like to ride. He got himself a bike. I remember when we went and traded his Sportster in and how easy it was. I mean, they'll really work with you on a deal. So, we go and ride together. I also go ride with the guys from Harley. I used to ride with Bert from Ragweed, and after he gets his chopper refurbished he's going to come out and start riding again."
If money is no object, what would your fantasy bike look like?
"Well, I haven't even put together a fantasy bike in my mind yet because I know there's some things I haven't experienced yet that are way cooler than I can think of right now. I'd hate to put a fantasy bike together and then all of a sudden something cool comes along. I haven't experienced a lot, but I know what I like."
Rolling on the interstate towards another of his countless tour stops, Stoney Larue has logged many a mile following the rhythm of the asphalt that seems to go on forever. Still, after many days and nights spent chasing his dreams, he returns to the highway for comfort, inspiration, and the simple pleasure of riding his treasured Harley. And as a man truly at home on the road, he wouldn't have it any other way.

You can contact our TMT writers from our contact page.